MaxdB
biography
music from the band 'Undertow' (later U-Tow), and some things I made at home. ( with PC and Yamaha AW44-16 HD recorder)

special thanks to:
-Rodney Werleman(drums)
-Marcel Remmig(bass)
-Hugo Sipkes(git)
-Lawrence Payne(voc)

I really enjoyed doing all recordings and mixes, mainly with Cubase, some additions with Reason.

I like composing, playing and recording, and love to have feedback of any kind, tnx in advance.

MaxdB (aka: Marco den Bakker)
1

May 13th, 2006 + 5:05 PM
·

MaxdB
3

March 25th, 2015 + 7:03 PM
·

MaxdB
the title defines it all,
simplicity was a keyword while composing it, then I took it to the Band (Daizy Bell),
this is just the first rehearsal, and me fooling around with my new synth (old roland rs-50)
upload only for constructive comments and opinions how to make it a worlwide Nr.1 Hit...
Or just how you like it or dont
3

November 23rd, 2013 + 6:11 AM
·

MaxdB
Daizy Bell rehearsal multitrack recording
vox and overheads are on same tracks, ran out of cables
everything else on separate tracks in one take
far from perfect but I think the atmosphere is nice though?
7

November 9th, 2013 + 4:11 AM
·

MaxdB
Next week 16 november we are having our first gig, for me it will be the first in 10 years, hope were ready
3

May 6th, 2013 + 12:05 PM
·

MaxdB
a cover section and a rehearsal section?
maybe instead of the battle section?
5

May 6th, 2013 + 11:05 AM
·

MaxdB
Hi Bandamp!
I haven't been around a while, all because of joining a cover band with the drummer i used to play with (in my former band U-Tow) and some other great musician, so i had to work my ass off :P
We're rehearsing only 2 months once a week now so it isn't perfect.., but is there enough to enjoy and to expect?
I am gonna upload another track with more of the fem singer in it soon, caus this one is mainly sung by her brother(which joined U-Tow for a while also) , so we have both male and female singer on board
The recording is made with mobile phone and edited only a little on frequencies, its just a rehearsal
Love to hear your opinions on it!
Alias:
MaxdB

Status: Offline
Threads:
75
Posts:
905
Songs:
57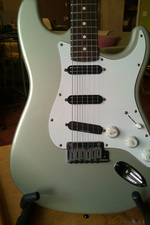 Joined: July 30th, 2005
Last login: December 12th, 2016
My Messengers
| | |
| --- | --- |
| AIM: | n/a |
| ICQ: | n/a |
| Skype: | n/a |